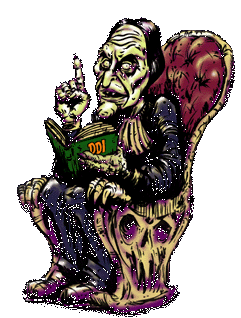 Yup! Freaky Flyers are back, after yet another successful year scaring the complete and utter bee-jeezes out of Halloween revelers everywhere, but this year when you stare at them... they stare back! Freaky Peepers have joined the riotous ranks and once again DDI is at the horrorfying helm of Halloween history!
Freaky Flyers are life-sized, foam-filled - custom props that can be hung almost anywhere. Freaky Peepers are slightly smaller rigid vinyl versions, equiped with multi-colored pulse-flashing, LED eyes! Both styles are light-weight and feature full-length flowing robes. Let 'em catch a gentle breeze and... yikes! High quality custom props this cool don't haunt the shelves long, so dont'delay......... un-crate one today!

Just in time... for your viewing pleasure! It's hot, it's cool - it's brand spankin' new.
Our youtube-video-page is up and running. Click-on the U-Tube graphic (left)
to be magically transported through cyber-osmosis (via - technological wizardry)!